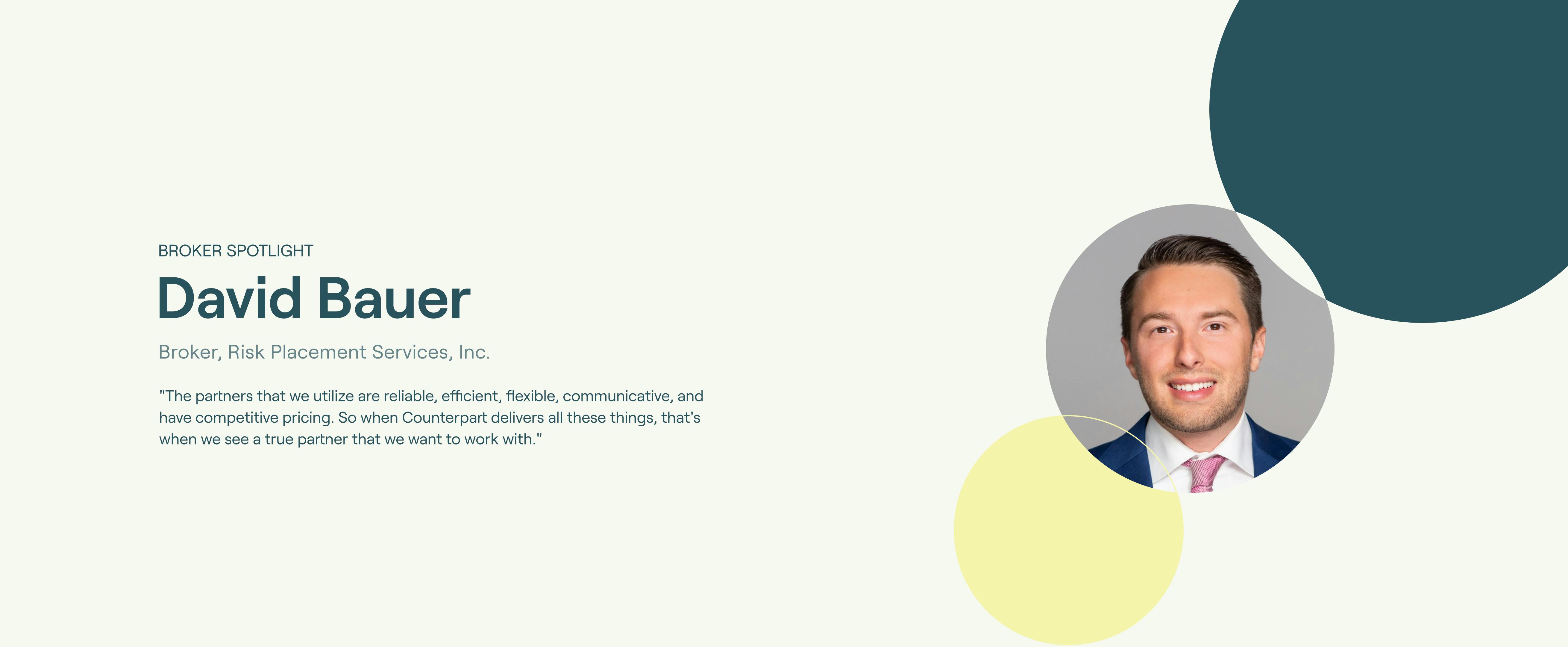 by Counterpart • 
Sep 20, 2023
Broker Background
David Bauer is an expert in handling management liability, professional liability, and cyber risks. Since joining RPS in December 2017, he has consistently qualified for the prestigious RPS Top Producer Club every year. Working with a diverse range of clients, from small startups to Fortune 1,000 companies throughout the United States, he demonstrates his versatility and expertise. With a solid 8-year tenure as an insurance broker, David Bauer has earned recognition for his outstanding performance, including being honored as a 2022 rising star by Insurance Business America.
Challenge
David faced several challenges in the highly competitive insurance market. He needed a reliable carrier partner who could provide him with competitive quotes and turnarounds quickly. Finding a partner that understood the nuances of niche insurance products, such as Employment Practices Liability Insurance (EPLI) and Directors and Officers (D&O) coverage, was essential for his success. Additionally, he wanted a carrier that communicates effectively and consistently.
Solution
David began working with Counterpart in 2023 to help him grow his business with a partner that specialized in management and professionally liability insurance. David continued to find success with Counterpart's commitment to reliability, efficiency, flexibility, communication, and competitive offerings.
Your response time on some of these accounts is crucial. We'll get a last minute submission and the Counterpart team is able to quickly provide a competitive quote.
1. Quick Turnarounds and Enhanced Offerings: One of the key success points in the partnership was Counterpart's ability to respond promptly to last-minute submissions. This efficiency allowed David to position himself strongly and win accounts.
We look at coverages, flexibility on terms, pricing, and Counterpart is able to deliver on these.
2. High Hit Ratio and Competitive Coverages: David's hit ratio ranks among the top 15% of all Counterpart brokers, and his submission growth has surged, more than doubling in magnitude, a remarkable feat in a competitive market. David attributed this success to Counterpart's ability to offer competitive coverages, pricing, retentions, and additional enhancements. The comprehensive coverage offerings were catered to the specific needs of his clients, boosting his chances of placing each account.
The partners that we utilize who are reliable, efficient, flexible, communicative and have competitive pricing. So when Counterpart delivers all those things, that's when we see a true partner that we want to work with.
3. Effective Communication and Strong Relationship: Communication played a vital role in the partnership's success. Counterpart provided David with a dedicated underwriter, who was readily available and responsive. David commended the ability to reach out to his underwriting counterpart (pun intended) for last-minute opportunities that required a prompt response. This strong communication facilitated a close working relationship where both parties were aligned on the goal of helping the small business secure great coverage.
You guys have been a great partner for us in regards to reliability, efficiency, flexibility, communication, and being competitive, which is key for us.
Conclusion
The partnership between David and Counterpart proves to be a mutually beneficial alliance. David has been provided reliable, efficient, and competitive offerings tailored to his client's needs. Counterpart's ability to deliver prompt quotes, comprehensive coverages, and consistent service allows him to win more accounts.
by Counterpart • 
Sep 20, 2023