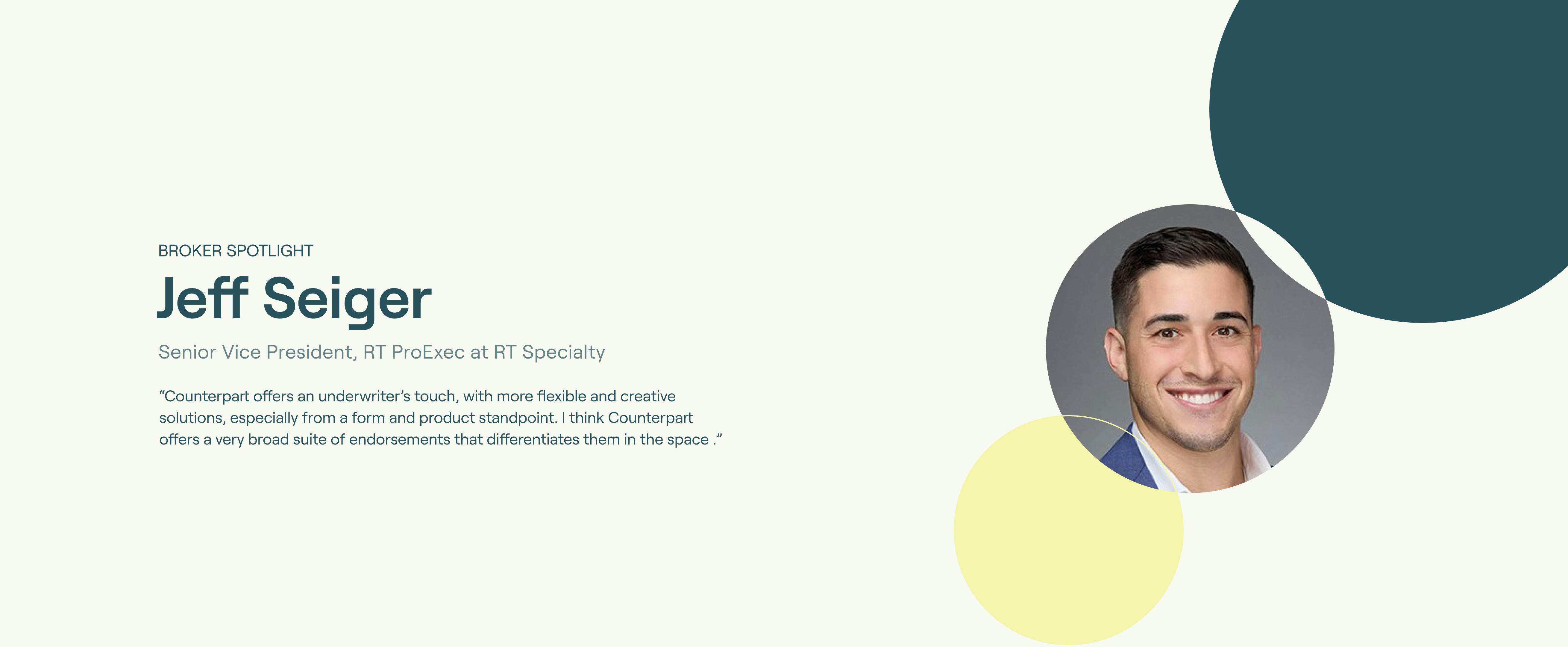 by Counterpart • 
Oct 26, 2023
Broker Background
Jeff Seiger is Senior Vice President within the esteemed Reiner/Richmond Team at RT ProExec, a division of RT Specialty. With a career spanning over a decade in the insurance industry, specifically Financial Institutions and Commercial lines, Jeff has amassed a wealth of experience and knowledge that well positions him as a seasoned insurance professional.
Challenge
Over the years, Jeff has found that some insurance carriers can often rely too heavily on their algorithms without thoroughly accounting for the nuances of their products or their clients' unique needs. This issue highlights a broader problem in the insurance industry, where some carriers may over-index on automated processes and neglect the importance of human input and expertise. Consequently, Jeff has faced myriad challenges, such as carriers displaying inflexibility in pricing, coverage adjustments, and substantial pricing and terms alterations without justifiable reasons. All of these variables make the renewal process extremely challenging.
Opportunity
Jeff prefers to partner with carriers that not only understand the nuances of his specialized insurance sector, but who are also dedicated to supporting his brokerage with their extensive knowledge and resources. When introduced to Counterpart in 2020, Jeff swiftly recognized the company as a genuine partner to help bolster his business endeavors. Since then, Jeff has become one of Counterpart's top ten premium producers.
Counterpart offers an underwriter's touch, with more flexible and creative solutions, especially from a form and product standpoint. I think Counterpart offers a very broad suite of endorsements that differentiates them in the space.
1. Tailored Underwriting: Jeff attributes part of his success to understanding the unique needs of each business and skillfully crafting solutions that precisely address those needs. He quickly discovered that while Counterpart leverages technology to underwrite, they also have a team of knowledgeable underwriters that carefully review every application and develop comprehensive and competitive coverage and pricing. This has been particularly beneficial to Jeff's renewal business because it has helped him avoid unwarranted changes to coverage or pricing during renewal, sparing Jeff's clients from unexpected and often unwelcome surprises. Additionally, Jeff has been able to offer custom and winning terms by leveraging Counterpart's extensive range of endorsements.
We've seen Counterpart expand their appetite into new classes, such as healthcare and auto dealers, which has helped us get in the door when a retailer doesn't have access to that product.
2. Exclusive Product Offerings: Jeff is constantly looking for new opportunities to support his clients and grow his book of business. He's found success offering products to his retail agents that they wouldn't otherwise have access to. He promptly capitalized on the chance to provide insurance coverage to his clients in the healthcare and auto dealership sectors as soon as Counterpart ventured into those emerging markets.
Counterpart is always super quick to respond. We never have to worry about a submission just going dark on us. You're usually the first to respond with terms, an indication or a decline.
3. Fast Response Times: Jeff relies on his carrier partners to promptly respond to his submissions, regardless of whether they ultimately secure coverage or not. This is particularly important in a fast-paced industry where time is a critical factor, and insurers often compete to offer the best coverage and pricing. Jeff doesn't only count on Counterpart underwriters to respond to every submission, but they are reliable and the first to respond. As a result, Jeff has been able to expedite the process of providing solutions to his clients.
by Counterpart • 
Oct 26, 2023