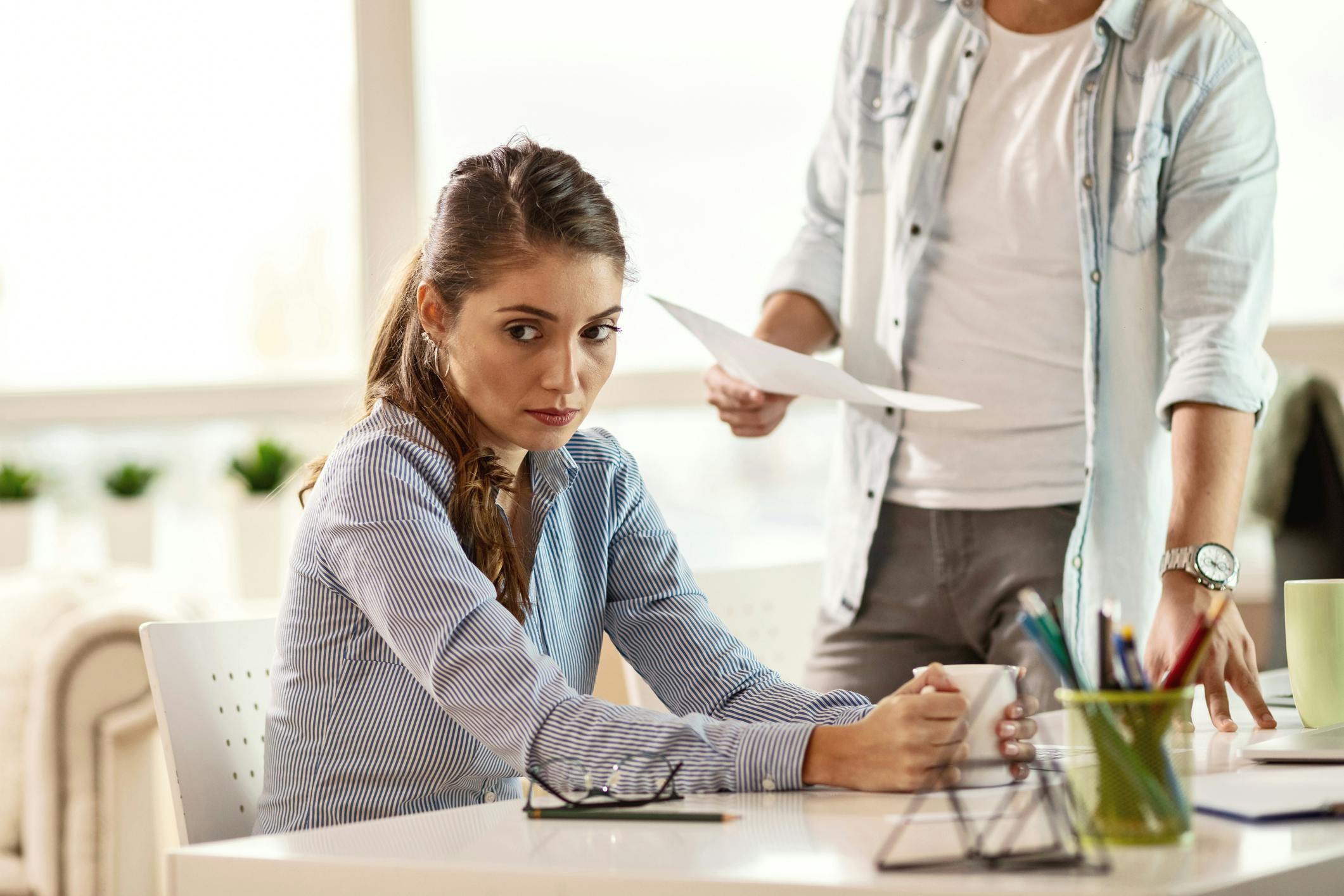 by Counterpart • 
Oct 14, 2022
Failing to prevent sexual harassment in the workplace can lead to several significant issues. Low morale, decreased productivity, and expensive lawsuits affect your employees. But these effects also limit growth and can damage the business's reputation. 
Despite best efforts, sexual harassment has persisted for decades. Vague policies and outdated sexual harassment training programs can do more harm than good. 
As a result, businesses today take a two-prong approach. First, they try to prevent potential harassment scenarios. Then, they invest in insurance to protect against allegations.
Let's look at how businesses can safeguard their employees and business. But to do that, we must first define sexual harassment.
What Is Sexual Harassment?
Sexual harassment is any unwanted behavior or sexual advance at work. This behavior often creates an intimidating, unpleasant, or offensive environment. 
Some examples of sexual harassment include various unwelcome sexual advances:
Touching a colleague or employee without their consent
Asking for sexual favors for a promotion, favorable treatment, or even keeping one's job
Comments, sexual gestures, or lewd jokes about a worker's personal, private life. This includes their sexual orientation.
Making demeaning comments about coworkers or employees based on gender, sexual orientation, or appearance.
While a majority of victims of sexual harassment are women, sexual harassment can happen to anyone. It is important to take all claims seriously, regardless of who it comes from.
Impact of Sexual Harassment on Employees
The indirect costs of sexual harassment can be just as destructive. 
Harassment reduces employee satisfaction and productivity, too. Poor company reporting and investigation contribute to lower employee loyalty. As a result, employee turnover can increase. 
The harassed employee may suffer additional losses. These include medical fees, loss of promotions or bonuses, lost retirement contributions, legal bills, and a forced company or career change. These losses may be included as damages in case of a lawsuit. 

Strategies to Prevent Sexual Harassment in the Workplace
Informing and empowering supervisors is one of the best methods to prevent workplace harassment. Good strategies equip managers and workers to recognize red flags. Employees are also encouraged to follow policies that create a welcoming workplace. 

Create a Transparent Zero-Tolerance Sexual Harassment Policy
Every employer should have a written policy against sexual harassment. 
Within the policy, there is zero tolerance for sexual harassment. Any employee who commits a confirmed act of sexual harassment that is illegal should be fired. You may ask that all employees sign this policy, signifying that they have read and understood it. 
Under this type of policy, employees do not get warnings or punishments for doing things that are against the law. With just one confirmed case of sexual harassment, a person can be fired.  
In reality, zero-tolerance policies include many procedures, investigations, exceptions, and alternative penalties. The individual may face disciplinary action, but will not necessarily be fired. 
This is because there is a sliding scale for the severity of sexual harassment. Some actions are worse than others. So, you may want to make a rule that gives management the freedom to decide how to respond.
The entire point of policies against sexual harassment is to stop bad behavior before it starts. An employee should know that not all behaviors are the same and warrant the same punishment.

Provide Your Employees With Training
Effective sexual harassment prevention training helps employees better identify and fight harassment. Managers and supervisors learn to enforce the policy, spot improper behavior, and correct misconduct. Every employee should receive training during onboarding. But you should also give your employees sexual harassment training at least once a year. 
During training, employees learn how to identify unwelcome sexual advances. They also learn how to report incidents to human resources. This information should also be in the employee handbook. 
Some states have specific regulations about harassment prevention training for all employees:
California - All businesses with five or more employees must provide two hours of training for supervisors and one hour of training for employees every two years. 
Connecticut - All businesses with three employees or more must conduct two hours of training for employees and supervisors.
Delaware - All businesses with 50 employees or more must provide interactive training within one year of hiring, and refresh training every two years. 
Illinois - Two hours of training for supervisors and one hour for employees annually. 
Maine - Employers with 15 employees or more must provide training within one year of hiring an employee. Supervisors and managers must receive additional training once promoted. 
New York - All employers must offer anti-harassment training to employees and supervisors annually. 
For your specific state's guidelines, you will want to review your state's Department of Human Rights website. Project When, an organization targeting workplace harassment, provides a list of state-by-state training requirements. 

Make Reporting Sexual Harassment Easier
A victim of an unwelcome sexual advance should have the ability to confide in more than one person. Perhaps, they would prefer to speak about this with someone who is the same gender. Or they don't feel comfortable talking to someone they will see daily. 
It's also possible that the alleged harasser is the supervisor, manager, or in HR. Whatever the reason, there should be more than one person available to process and investigate a sexual harassment claim.
At the same time, managers should take complaints seriously. It's essential to confirm that there is no penalty for reporting harassment. 
An effective harassment prevention policy should also consider that employees report sexual misconduct differently. Some victims may refuse to meet with HR employees face-to-face. Therefore, a company should give options such as reporting anonymously via email, phone, or even through an online channel.

Raise Awareness
It's not enough to mention sexual harassment during employee onboarding. Regular workshops to raise awareness can refresh key concepts. They can also inspire confidence that you care about employee wellbeing. Feedback sessions about the company's policies and preventative measures against sexual harassment foster trust and positive company culture.

Invest in Adequate Insurance Coverage
There are various types of business insurance available to help protect a company. Employment practices liability insurance (EPLI) covers claims made by employees against their bosses or coworkers for things like sexual harassment, wrongful termination, and retaliation. EPLI might also cover claims made by or against third parties, such as customers or vendors.
Directors and officers (D&O) insurance cover "wrongful acts" committed by the company's leadership. It protects the company's leadership from lawsuits that claim they broke their fiduciary duties. This includes misrepresenting or neglecting claims of discrimination or sexual favors.
Final Thoughts
Cultivating an informed workplace where employees feel safe from harassment protects workers and the company alike. Clear, anti-harassment policies build employee trust. And well-defined and enforced punishments keep employees secure. 
But it helps to cover all your bases. 
An EPLI policy can help your company manage the legal and financial impact of harassment claims. But it covers a wide range of risks, too: 
Payroll disputes
Third-party liabilities 
Wrongful termination
Discrimination claims
Training expenses
Retaliation allegations
Misrepresentations
Allegations of emotional distress
Medical leave violations
Breaches in employee privacy 
Combined with other business insurance policies, you can find a way to create a productive place to work. A place where everyone thrives to their fullest potential.
Disclaimer: ​​The information provided herein is to provide an overview of current issues and situations and to alert our readers of potential areas of concern. The information set forth herein is not, and should not be construed as, legal advice.
by Counterpart • 
Oct 14, 2022