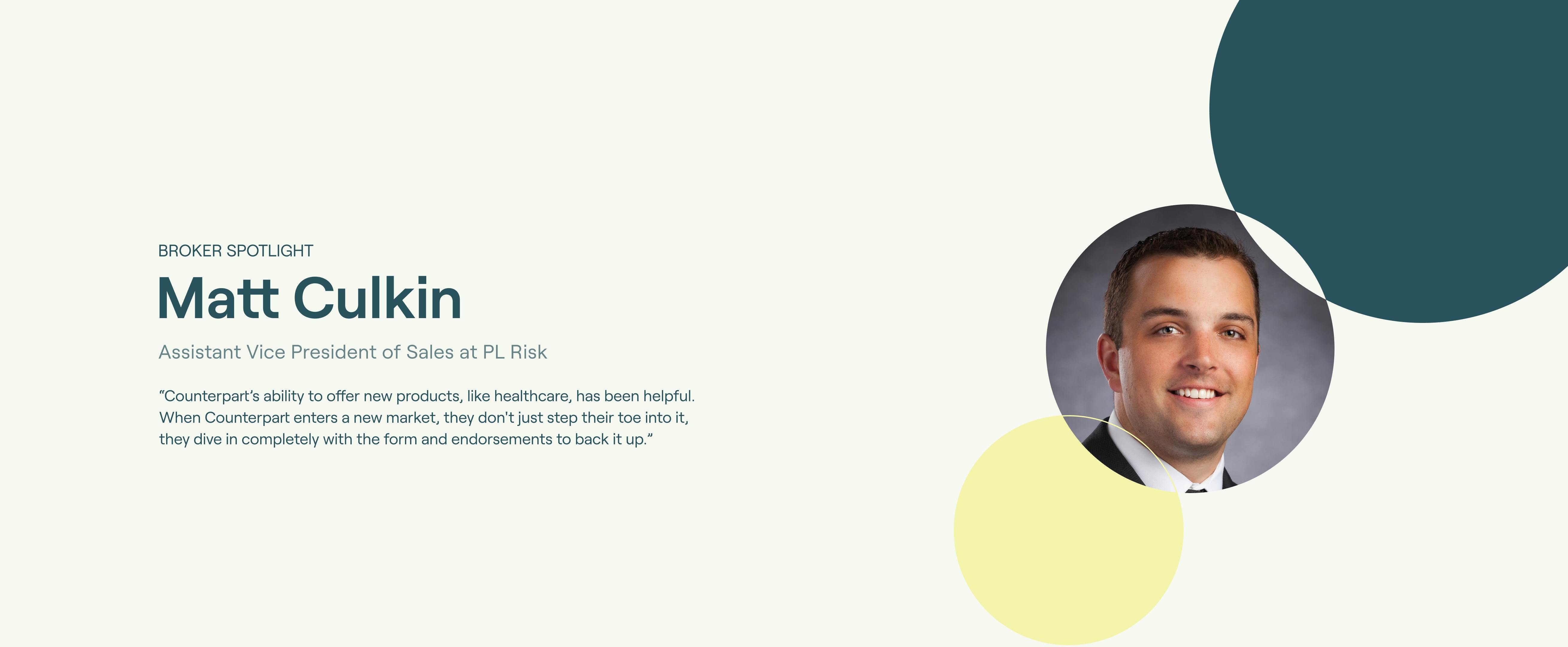 by Counterpart • 
Nov 06, 2023
Broker Background
Matt Culkin is a seasoned insurance professional with over 12 years of experience in the industry. Matt is currently the Assistant Vice President of Sales at PL Risk. He started as an account manager, has risen through the ranks, and now leads a team of insurance brokers. Matt specializes in Management and Professional Liability insurance, providing expert guidance and tailored solutions to protect businesses and professionals. His dedication and expertise make him a trusted advisor and consultant in the fast-paced world of insurance.
Challenge
Matt is a self-proclaimed "coverage first" broker, but found carriers offering incomplete coverage to present more competitive rates to his clients. This has created an increase in demand for Matt's time, needing to carefully review each quote, line by line, and have extensive discourse with carriers — all to ensure there are no gaps in coverage.
Matt also struggles with carriers increasing rates and altering coverage year after year, which has made it difficult to renew his existing accounts. This constant fluctuation in pricing and coverage was challenging and time-consuming, and it's forced Matt to continually reassess and renegotiate policies in an already competitive insurance market. 
Opportunity
Matt believes that every business is entitled to a standard of coverage, and that coverage should never be sacrificed for a competitive rate. He prefers to work with carrier partners that default to offering sufficient coverage from the onset. Matt has found that Counterpart is able to offer tailored coverage while still providing his clients with competitive pricing. As a result, he has achieved significant success with Counterpart, boasting a hit rate that exceeds 65%.
We're a 'coverage first' organization. We read forms. Counterpart underwriters make our job easier because they know the product and market, and offer a comprehensive product so we don't have to go back on every deal for the same three endorsements. They include it out of the box, which is helpful.
With a large book of business, clear and concise communication is critical for Matt. Following up with carriers on every submission or going back and forth to negotiate changes isn't always the most efficient use of time. Matt has chosen to partner with carriers that promptly respond to his submissions and pick up the phone when he calls, which not only saves him time on each application, but also helps him win more business. He finds the Counterpart team to be extremely communicative, throughout the underwriting process and beyond. Underwriters quickly acknowledge his submissions, and they often opt for a quick phone call to discuss his accounts.
Counterpart underwriters are extremely responsive, whether it's a quick 'yes' or a quick 'no.' We don't really have time to track down dozens of underwriters on every single deal. We appreciate knowing quickly whether or not you're going to be a fit.
Matt is committed to offering the best solutions for his clients. When a new product launches, Matt is eager to endorse the offering, but he's also thorough with his review, making sure the carrier can provide the coverage his clients need. Matt was excited when Counterpart expanded into healthcare and did his due diligence to evaluate their submission form and endorsements. After an honest review, Matt felt Counterpart had thoroughly built a healthcare product that he could proudly offer his clients.
Counterpart's ability to offer new products, like healthcare, has been helpful. When Counterpart enters a new market, they don't just step their toe into it, they dive in completely with the form and endorsements to back it up.
by Counterpart • 
Nov 06, 2023